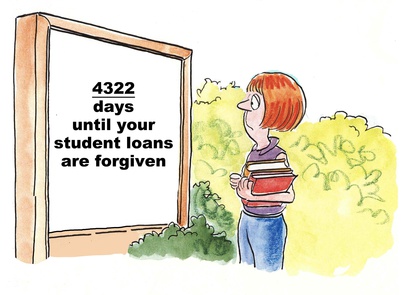 As higher education costs soar outside the reach of the average middle class family, student loans are becoming an increasing necessity. Once you finish your academic studies, the loans loom over you and become a source of overwhelming stress. But before you curl up in the fetal position and choose to ignore your new shackles, take a deep breath and follow a few basic steps to get control of your debt.
Take stock of your loans. Review how many you have, what the interest rate is for each, and how much debt you have per loan. Set up your own records to track your payments and balances, using a tool like Excel or Google Spreadsheets, so that you are not relying on your loan companies to be your record-keepers. If a discrepancy or dispute ever arises in your account, you need to be able to refer to your own records. If you haven't already, set up your online account with each loan company and consider connecting it with a personal finance service like Mint to help you track your payment progress.
If you do not yet have steady employment, or you are in other tough financial straits, reach out to your loan company to rework your repayment plan, apply for forbearance or ask for a deferment. Be prepared to do this any time during the life of your loan when you are unable to pay for any reason. Ultimately, lenders want to be paid back, and they will do what it takes to keep you from defaulting. They will help you navigate your limited finances to find a payment schedule that works for you. If you lose your job, have a financial emergency that drains your assets, or run into other problems, let your loan company know immediately and try to work out a deal until you can resume the full minimum payments again. Never skip payments without reaching out to your loan company, since this can ding your credit score.
If you are employed after graduation, create a loan road map for yourself, complete with goals, and stick to it. Consider how much time it will take to pay off each loan and add this estimate to your loan tracking tool. Set milestones to help motivate yourself along the way.
Prioritize loan payoffs. The highest priority should be given to either your smallest loan or your highest-interest loan. Choosing your smallest loan will mean paying off one loan more quickly, resulting in the satisfaction and motivation that comes with being free of one of your debts. Choosing your highest-interest loan will mean paying less money in the long run, since it will prevent as much interest from accruing; but depending on how large this loan is, it could take much longer to pay off. Whichever method you choose, be sure when you submit additional payments on this loan to specify to your loan company that it should apply the money toward the principle. Otherwise, the extra money is likely to be applied in the way most favorable to the loan company, for example, toward the following month's payment or only toward the interest accrued on the loan.
Supplement your income. It can be difficult to make ends meet while also paying off your loans, especially if you're putting extra payments toward one of your loans. Consider your skills and how you may be able to leverage them to supplement your income. You could create a monetized blog or YouTube channel, set up a shop on an e-commerce site like Etsy, do work online, or pick up a second job. Even if you are working at minimum wage, paying off the principle of a high-interest loan with your wages will mean saving yourself much more money in the long run. Paying $10 toward a loan today could mean having $15 extra in your pocket in a few years.
Delay investing and major purchases. Plan on having an emergency savings fund to serve as a safety net if you have a financial emergency or lose your job. However, hold off on any major savings, investments, and major purchases like a house or a car, which will cut into your ability to put as much money as possible toward your student loans. Because loan interest rates are almost always higher than interest rates on savings accounts and investment portfolios, paying your loans quickly will usually save you money. The one exception to this rule is if your employer matches contributions to your 401(K); in this case, max out your employer's match if you can, but don't exceed it.
As you begin your new life after graduation, don't make the mistake of letting your student loan debt overwhelm you into inaction or complacency. By seizing control of your debt early–even if that means applying for deferment or forbearance due to financial hardship in the short term–you can be smarter and more strategic about freeing yourself from debt in the long term.